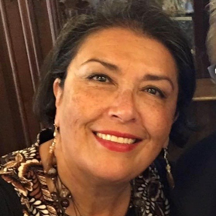 Noemi Valdes
Director, Early Childhood Education Programs, Oxnard School District
Noemi Valdes is the Director of Early Childhood Education Programs for the Oxnard School District (OSD).  OSD is located in Oxnard, California, the largest city in Ventura County.  Established in 1873, the Oxnard School District has 21 schools serving slightly over 15,000 students of diverse ethnicity.  English Learners make up 51.8% of the student population, 85.5% are social-economically disadvantaged and .5% of the students are Foster Youth.  The District teachers, staff and administrators are committed to providing students access and equity to enrich the educational experiences of our students. Recognizing that our students' home languages represent a powerful asset for themselves and our community, our district is committed to building strong, research ­based and standards driven biliteracy programs across the district. In addition to providing opportunities for our children, the district celebrates the linguistic and cultural backgrounds of the community.  The district is committed to ensuring students receive an academic educational program that prepares them for college and career.  The district values the collaborative relationship established between staff and the community. Parents/Family support and engagement are at the forefront of district goals. As a district, we believe that the education of our students is a collaborative effort and therefore we work to strengthen relationships regularly by empowering parents to be change agents and partners in education.   The district operates eight CSPP sites, providing half-day preschool, and health and social services to 370 students.   Oxnard School District preschools proudly hold Advanced or High Quality QCVC ratings.
Noemi's career in education began right out of high school, as a Bilingual Instructional Assistant in the Oxnard School District (OSD), supporting teachers and students in Kindergarten-5th grade. She left the district after several years, but returned in 1994 to provide mental health prevention and early intervention services to Kindergarten through 3rd grade students experiencing mild to moderate social adjustment difficulties. The district's collective focus has been to bring and maintain early identification and intervention opportunities to our school community.  Opportunities coming to fruition and where Noemi had a direct role in implementation include; SB65 Pupil Motivation and Maintenance grants, First 5/Oxnard Neighborhoods for Learning contracts, opening new and modern preschool facilities, and increasing CSPP spaces.  As an Outreach Specialist for many years, Noemi coordinated the RtI efforts of preschool – 5th grade students, utilizing case management procedures to address and mitigate academic, attendance, and behavior concerns, providing direct services to students, and serving as liaison between school, families, and community based services.
For close to 20 years, OSD served as a contract agent for First 5 Ventura County.  For almost that same amount of time Noemi had the pleasure of directing the Oxnard Neighborhood for Learning Program (NfL), supervising personnel in the daily implementation of NfL early childhood education and family strengthening services; half-day preschools, Parent and Child Together (PACT), Strength Based Case Management, Outreach, Resource & Referral, and Parent Education workshops.   Noemi also worked in partnership with many community agencies who OSD subcontracted with to deliver services.  Her advocacy experience includes as the representative of the Oxnard School District on First 5 Early Learning, Family Strengthening Adhoc committees.  The purpose of these committees was to provide feedback and recommendations to the First 5 Commission on potential impacts to young children and families, issues affecting direct service providers, and to engage in dialogue on future strategic planning and evaluation.  In addition to First 5 committees, for several years Noemi was an Executive Committee member of Help Me Grow, and currently sits as an Executive Committee member of the Ventura County Local Planning Council (LPC), and most recently, Chair of LPC Quality Committee.