We recently released an updated version of Enhancing the Visibility of Early Learning in School Districts toolkit. The toolkit was initially developed in response to the 2021 DIAL EE report, A Survey of ECE Visibility and Alignment in California School Districts. In April 2022, it was updated to include results of the recent Early Education Visibility in California School Districts Report. The toolkit is meant to help increase the visibility of early learning within their districts.
The Center for District Innovation And Leadership in Early Education (DIAL EE) supports school districts to align early education and K-12 systems to ultimately realize the best outcomes for all children, from early childhood through high school graduation.
The California education ecosystem has many groups, such as school districts, charter schools, professional organizations, early education stakeholders, advocacy groups, research centers, funders, and more, that make up the early education and K-12 systems. School districts with early learning programs must navigate and operate within these two complex systems and set of regulations mandated by the Federal and State governments. Some districts identify innovative ways to work within both systems and governance frameworks to develop effective early education programs. However, leaders in these districts primarily operate in relative isolation limiting the diffusion of innovation and lessons. The Center for District Innovation and Leadership in Early Education acts as a convener and facilitator between school districts and various groups to align and integrate early education and K-12 systems.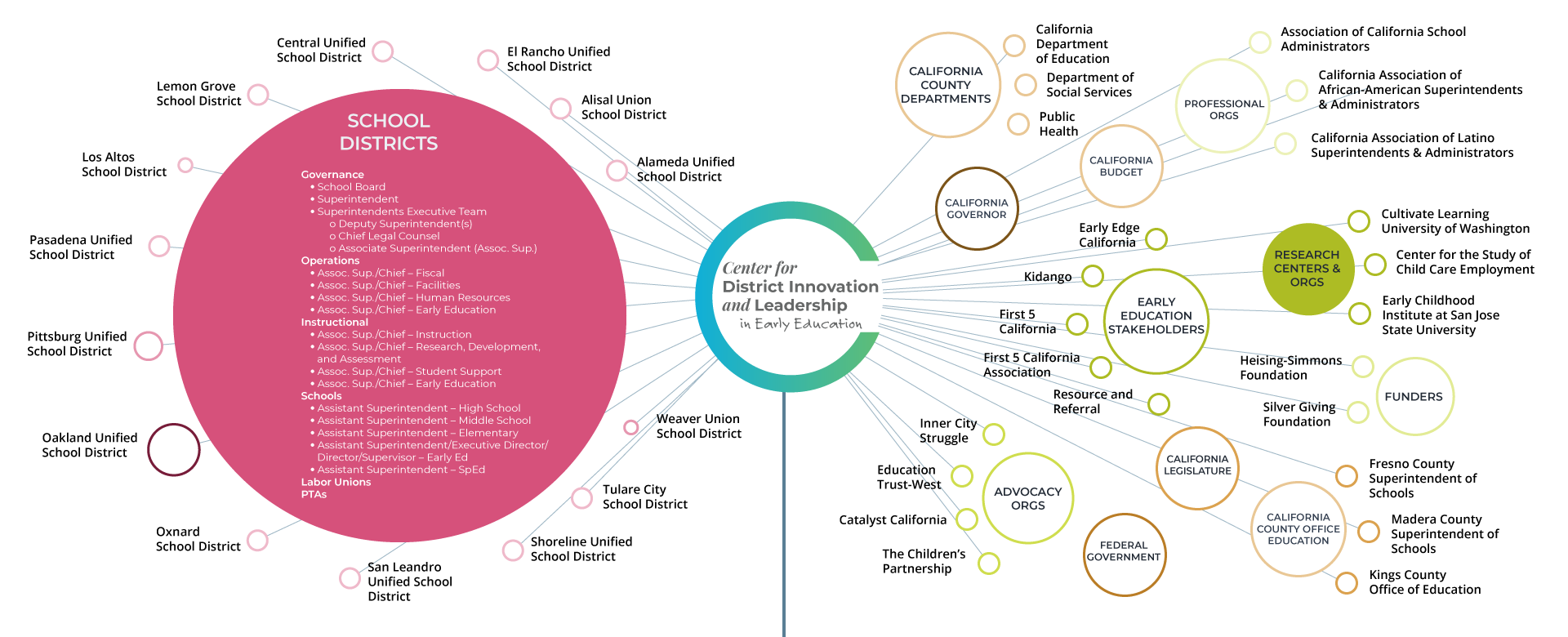 Since district early learning programs are unique in that they serve primarily low-income families there is the opportunity to design around a system focused on meeting the needs of the most vulnerable and ensures that children from communities with less social, political and monetary capital build a strong educational system. DIAL EE's work is informed by a group of early education leaders to ground it in the realities, interests, and priorities of those responsible for early education within their districts. DIAL EE's frameworks are focused on:
Whole child
Diversity, equity and inclusion
Measurable impacts
Early education strategy within local education authority setting


DIAL EE is currently partnered with a diverse set of California school districts to explore effective practices and policy in governance and leadership, budgeting, workforce development and continuous improvement for Preschool to 3rd grade. Embedded in this work is a focus on equity–for children, families, and the workforce. DIAL EE has two sets of strategies to achieve its goals:



Research
Understand local education authority context and current state e.g. governance model, leadership formal training

Communications
Implementation tools
Podcasts
Presentations
Publications
Website

Collaborations
K-12 professional administrative organizations

Policy
Governor's Budget
Legislature

Meetings
Synthesize incoming information from Governor, Legislature, State Departments such as DSS, CDE and department initiatives
Governance, Leadership and Implementation
Sign up to get our E-news